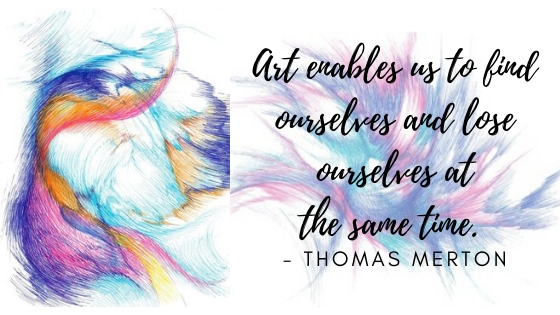 Art enables us to find ourselves and lose ourselves at the same time.
Thomas Merton
For Nancy Darlene Ackersviller, it was in losing herself, that her passion emerged.
In this crazy world, art is one of the beautiful things. It's not surprising so many of us feel an emotional pull when it comes to creative work – there are so many ways in which it can be experienced. I've always believed we are all artists in our own way; we each have a story and the way it unfolds is our canvas.
Nancy's story was born from a young girl with many aspirations. She grew up on a dairy farm north of Stratford, ON, milking cows and working in the fields. She was an avid swimmer who found a sense of calm from being in the water and used art to recreate the beauty around her.
After receiving a scholarship for post-secondary education, Nancy graduated with Honours from the University of Waterloo Fine Arts program and was on the path to start teaching. But as is the case for many, life took a few turns and she found herself back in the country raising her two boys and pursuing a career as a personal banker. She stuffed her art into the closet.
What brought it back out? A deep inner knowing that it was time. After 25 years of not creating and many sleepless nights of feeling lost and beaten by the trials of life, Nancy's true passion was re-awakened. She started creating again in 2016 and hasn't looked back since.
As Nancy returned to drawing in her chosen medium—coloured ink on paper—she began to feel that her work was being guided by something bigger than herself. Although her art is abstract, people started noticing images within her pieces and feeling them on a deeper level. Nancy believes that as her own healing completed, powerful feelings of love and transformation were emoted in her work, enabling her to channel healing messages for others.
Things evolved quickly when Nancy started doing shows in the holistic wellness circuit. Requests for custom pieces were rolling-in as people were pulled to discover an intuitive message received just for them. She could see her art was genuinely affecting others, giving them whatever it was they needed to know or feel.
Today, Nancy's art has moved from drawing to mixed-medium painting, including natural and spiritual elements such as wood, feathers and crystals. She sees each artistic 'mistake' as an opportunity to create on a new level, expand consciousness, and manifest.
What's in store for the future? Nancy is currently making plans to open a local gallery with studio space, but in the meantime, you can view her work and connect with her to learn more about custom pieces at nancydarlene.com.
"There's almost always tears when I hand-deliver my commissioned pieces"

 
she says, 
"but they're always followed by giant hugs of gratitude. Seeing how my art is received is what keeps me going .. it's a confirmation that what I'm doing is needed."