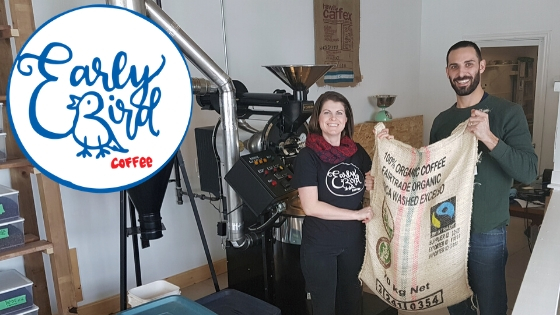 A Roast Worth The Rise
Story By Genna Conte, Lot 86 Media

I met with Elio Caporicci of Woodstock's Early Bird Coffee on a crisp fall day in October. The air was filled with the sweet smell of roasting coffee beans and sunshine beamed through the cafe's large wraparound windows. I was immediately impressed. I fancied myself a bit of a coffee snob after 14 years of being spoiled with Toronto's best independent roasters and hadn't been able to find quite the same ambiance locally, until now.
Roasting is a three-day per week ritual at Early Bird, yielding about 4 kg of heavenly goodness per roast – a threshold that put them into the revered "small batch" category. But what I really wanted to know was, what sparked this awesome venture and how was it going?
It turns out Elio has deep roots in entrepreneurship. From the art of fish-smoking to selling real estate, every venture sparked ideas about how to improve the business, grow it, and make it his own. Coupled with the food-focused culture of his Italian heritage (as a fellow Italian, I can verify you don't truly know "full" until you've experienced the many courses of an authentic Italian meal), you can see why Early Bird Coffee was such a natural fit and success.
Elio moved back to his Oxford County roots with wife Kate Leatherbarrow in 2013, from Guelph, ON. Guelph had been good to them, but they were looking toward the horizon for the next step to challenge their growth as a couple and continue their path of maintaining a happy, fulfilling life.  As a couple, they always enjoyed embarking on cultural experiences together – enjoying good meals, good company, and supporting local.
With this mindset, they immediately began thinking about what was missing and how they could contribute to the community. After stumbling across the Oxford Fresh map, inspiration grew, things got serious, and they hit the ground running. They secured a space, came up with a name that held personal meaning, and sourced ethically and sustainably produced beans from Honduras. They opened their doors for a soft-launch in February of 2019, becoming fully operational to the public in April.
"We've had a great response from the community and get to meet new people and build real connections, every day" says Caporicci, "Has it been a lot of work? Absolutely. But the work motivates me—there are so many nuances to roasting the perfect cup of coffee. Coffee is a community that knows no borders, and creating community is the ultimate reward."
In terms of what's in store for the future, the pair is building on their mission to educate and create meaningful experiences through Roasting Labs – a unique one-hour journey through the art of roasting, tasting and laughing together. The labs will include a personalized-blend for takeaway and will be a perfect option for those seeking a fun, private event for parties, showers, and corporate team-building.
Their advice to upcoming entrepreneurs? Do market research. Talk to other business owners and take advantage of community resources to establish a supportive and likeminded network, because "people working together are more powerful than people working alone."
I'll toast a steaming latte to that.
See full story in the November issue of THE HUB/MusingAbout.ca Stories from Oxford County