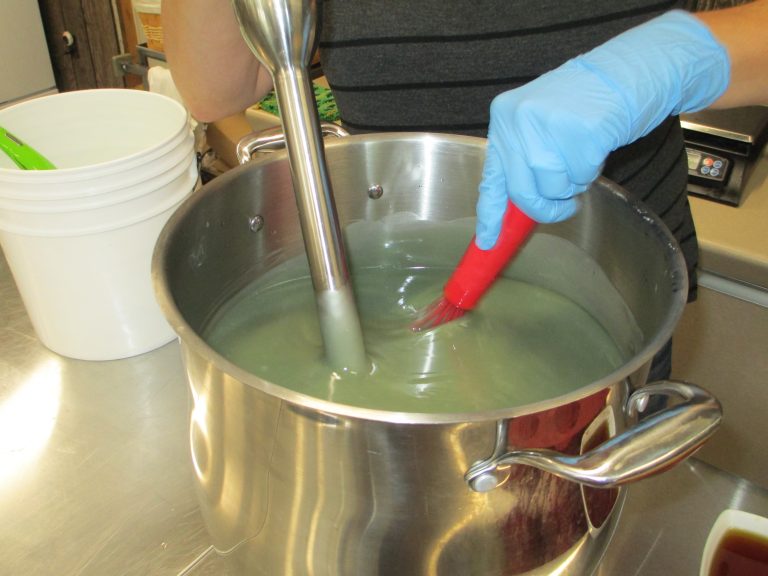 A Natural Way of Doing Business
Story by Leanne Beattie
Walk into Wild Comfort on Gunn's Hill Road and you're immediately surrounded by the clean, fresh herbal scent. Rows of handmade soap line the shelves, along with bath bombs and teas, deodorant, serums and face creams, all made with natural ingredients.
But owner Danielle Paluska never meant to open a natural products business. Originally a mental health professional, Paluska was at a crossroads in her career in 2014 and decided to take a 3-month break. She began making soap as part of her goal to do something creative every day and soon realized she wouldn't be returning to her job.  Wild Comfort was launched a few months later.
Learning and improving
The creativity that comes with creating natural products is Paluska's biggest joy, and she loves making products that are less processed and artificial. She continues to take chemistry classes online to be able to create better skincare formulations, and she likes to experiment with ingredients to find out what would happen if she added something different to the mix. For example, she learned that adding salt to a product at a different time created a much thicker consistency. It wasn't something she planned, but it turned out better than the way she was doing it before.
Ethically sourced ingredients
Besides the storefront, Wild Comfort is also a familiar sight at several area markets each week, including the Woodstock Farmer's Market, the Ancaster Farmer's Market, and the Stratford Slow Food Market. And although Paluska doesn't have formal marketing training, her brand is growing well because it is a reflection of her values. "People want to know how their stuff is made," says Paluska. While her products aren't 100% organic, the ingredients are ethically sourced and fair trade is a priority. Customers can also bring in their empty bottles to either the market or the store for refilling, which is environmentally-friendly.
Growth opportunities
To help expand her business, Paluska has started holding workshops at her farm in conjunction with Dr. Kristina Dekroon, a Woodstock naturopath, and she hopes to someday grow her own ingredients. She also holds intensive soap-making workshops where guests can develop the colour, shape and design of their own personalized soap using the base that Paluska provides.
Wild Comfort is located at 445300 Gunn's Hill Road, Woodstock, Ontario N4S 7V8, and is open Wednesdays noon until 5 pm, Fridays noon until 5 pm,  and Saturdays 1 pm until 4 pm. Visit https://wildcomfort.ca for more information or to buy online.
Leanne Beattie began her writing career as a freelance journalist in Owen Sound, Guelph and Fergus. She later moved into corporate communications and marketing where she worked in the high tech and financial sectors. She now owns Creativity That Sells (
www.creativitythatsells.com
),a content marketing business based in Port Stanley.
See this story in the September issue of https://hubmedia.info/norfolk-hub-magazine-september-2019/
A way of life
"My first bar of soap wasn't pretty," Paluska says. "But I had a vision for my family, for what kind of life and work I wanted to have. People thought I was crazy to buy this farm and put so much work into it," she continues. "But I saw the potential here. Taking something broken and making it better is part of who I am."